Give the gift of sustainability this holiday season.
Nothing brings joy to the holiday season like gift-giving, but the amount of paper wasted each year in gift wrapping is simply not worth the hassle. According to a study done by Stanford University, the U.S. sees a 25% increase in waste every holiday season. Montages of wrapping paper, ribbons, gift tags, tape, and tissue paper are wadded up and shoved into giant trash bags. As we sit and watch the demise of our planet, the idea of eco-friendly gift-wrapping seems all the more worth it.
To start, look for materials within your home:
1. Scarves, Tea Towels, and Clothes—oh my!
Furoshiki is a type of Japanese cloth traditionally used for wrapping gifts and transporting items. For those who don't have to have Furoshiki lying around the house, an old scarf, tea towel, or clothing item will do. Size your gift to whichever material of your choosing, and follow the simple steps in this video for an effortless wrap. Let your wild side loose by choosing fun prints and fabrics.
2. Toilet Paper Trinkets
This one seems like the oldest trick in the book, but it truly is so easy! This is ideal for holding smaller gifts such as jewelry, money, or wrapped candies. First, clean off an old toilet paper roll. Next, fold in both ends of the roll and press firmly for hold. No tape or scissors required. Dress with ribbon, doodles, or even a sweet hand-written note. For longer gifts, use a paper towel roll.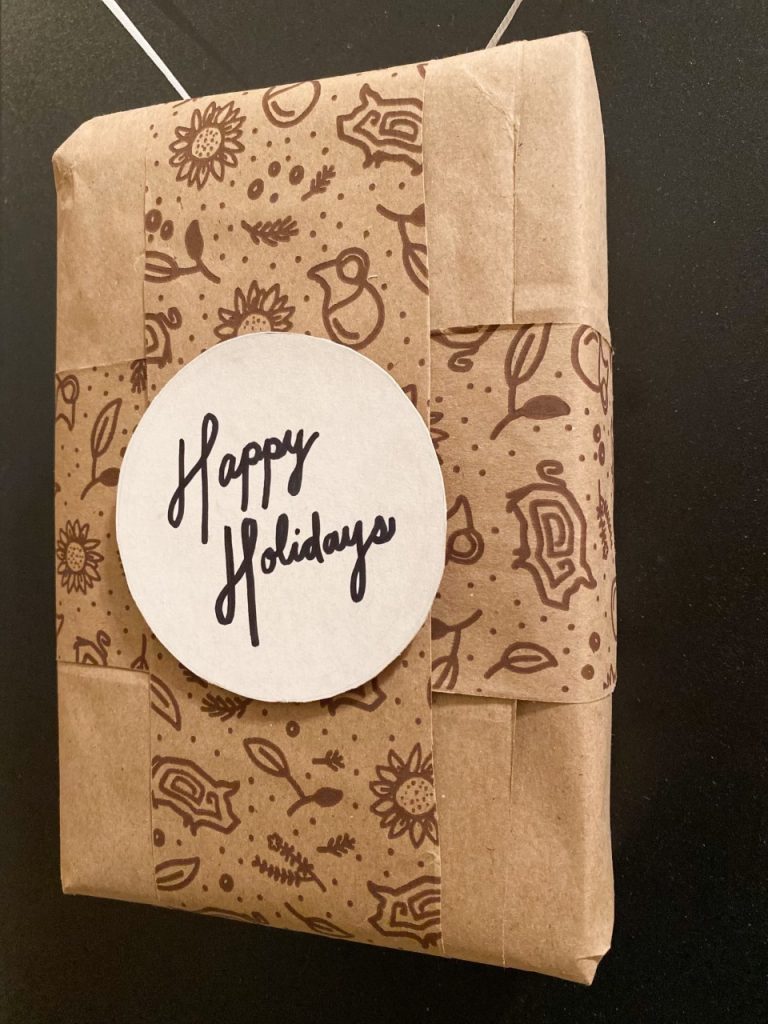 Want to give your new sustainably wrapped gifts an updo?
1. Postcard Gift Tags
Head to your nearest thrift store and pick up the most vintage, groovy postcards you can find. Cut them down to a size of your liking, and you are all set. Buying old postcards from a thrift store is a good use of second-hand shopping and reduces the demand for newly consumed paper.
2. Eco-Friendly Ribbon and String
Believe it not, companies are producing ribbon and string that are both affordable and healthy for the environment. Order online from stores like Wrappily, which offer a variety of colors and sizes, or visit your local craft store.
3. Packing and Shipping
Ever thought about how beneficial packing peanuts are for cushioning shipped goods but how terrible they are for the environment? Consider using biodegradable packing peanuts. They are made of 100% recyclable materials and don't linger as long in the environment as EPS (expanded polystyrene foam) or regular styrofoam peanuts. Corrugated Bubble is a second option. It's made of up-cycled cardboard, acting as an eco-friendly version of bubble wrap.